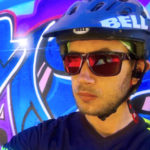 Jonathan Poole
Young Johno always enjoyed sport as a youngster. Golf and baseball tended to be his go to sports back in the day. However Johno found he needed something more active in his life so he moved away from the ball sports and spent about 6 years riding BMX. As he matured he found the combination of professional kayak fishing and the exhileration of mountain biking provided the contrast of calm and challenge he was looking for.
Johno has been riding mountain bikes for 15+ years now and has recently found a love for MTB cross country endurance racing. Sponsored by a local bike shop, Johno's racing passion has been active now for a few years and is enjoying chasing podiums, which he has achieved on several occasions. Other times Johno just races for fun and to enjoy the friendly atmosphere around cross country mtb races.
For several years now, Johno has been founder of mtb community groups and often leads social rides around the Newcastle region for no other reason than he just loves doing it. We noticed this at Momentum Is Your Friend and realised that, along with his mtb skill set, this guy could be a benefit to us and our students.
Johno's passion for coaching is evident when asked, "I love seeing the end result, that's a big thing for me. The smiles on their faces as they learn something new as the students progress through the coaching session just makes me want to help more and more." Clearly Johno finds great achievement and satisfaction in helping us help the students become safer, more competent riders.