AWABA MOUNTAIN BIKE PARK
Downloadable maps and information for our Awaba MTB Park location.
Permit: Forest Permit Lic HF55176
Permission: Hunter Mountain Bike Association
---
The Awaba Mountain Bike Park is built and maintained by the Hunter Mountain Bike Club (HMBA) and features over 12 kms of Cross Country race course, a nationally recognised Downhill track and a beginners Development track. At time of writing the HMBA were currently well into plans for several Gravity Enduro trails and even a Hand Cycle circuit.
---
Meeting Point
Awaba MTB Park, 600m up Jenkins Rd (Dirt) at 275 Mount Faulk Rd, Olney NSW. Some maps/GPS use Cooranbong NSW. Meeting point on map marked by Momentum Is Your friend logo.
Facilities
Toilets, parking.
Notes
Mount Faulk Rd is 60 kph. Kangaroos present, exercise cautious driving. Parking at meeting point or at entrance. Jenkins Rd slippery when wet.
Lost or Late?
Call 0402 204 005
---
MAPS
Printable PDF Map HERE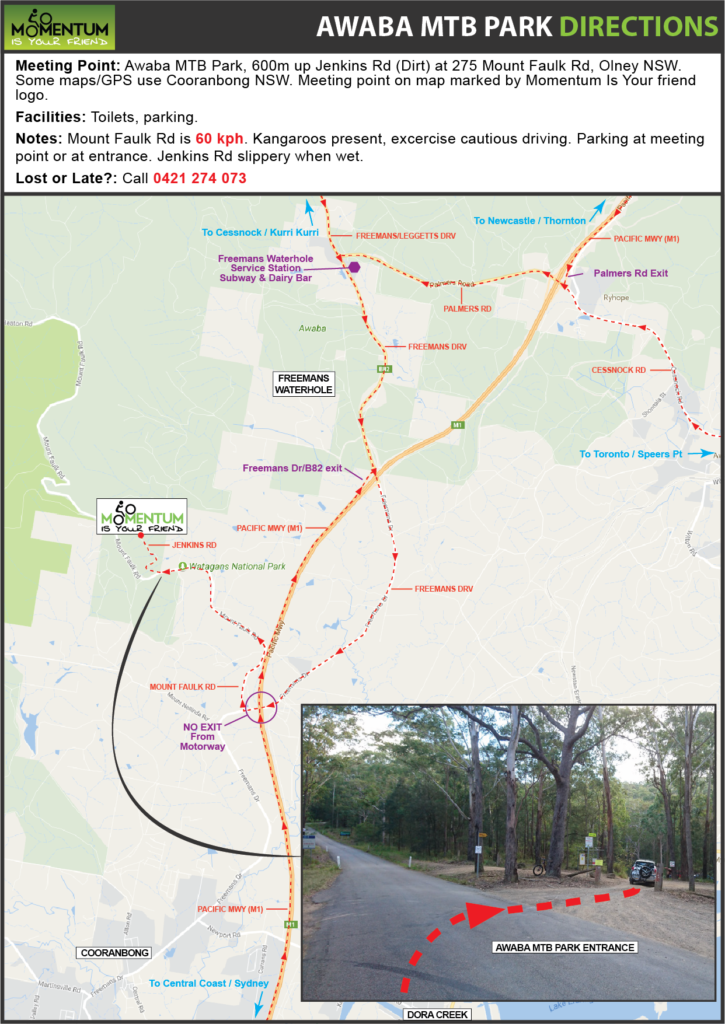 ---