Description
One On One XC Gift Voucher
The receiver to a 1hr professional XC mtb coaching session at a time suitable to them and us at one of 3 locations around the Newcastle area.
Our one on one sessions focus on what the student wants or needs to learn. With a single student, the mountain bike coach's attention is completely focused on you. This results in a higher learning curve.
Voucher Value
$85
Package includes
1 Hour private session of professional XC skills training for 1 person
Student's choice of location* from our available locations (listed below)
Student's choice of XC beginner and/or intermediate skill(s) to be taught
NOTE: Although the student's mountain bike can be entry level, it is required that their bike is fitted with mountain bike tyres and not touring/semi-slick tyres. If you are unsure, please ask us.
What will the student learn?
We can teach the student anything from how to check your bike for problems through to learning to jump.
Common skills we are asked to teach include the following:
Advanced cornering quickly on flat turns and berms
Basic Cornering
Dealing with Rocks
Wheel lifting & manuals
Bike Handling for more speed
Climbing & descending steep, pinches and switchbacks
Small jump/hopping
Race skills
Location specific manoeuvres
Correct positioning on the bike
Choosing the best lines
Correct gear changing
Correct braking
Getting over small obstacles
and more.

Who does this session suit?
As mentioned earlier, beginner to intermediate riders looking to learn anything from the basics through to honing & sharpening skills they might already possess.
"I'm shy so I prefer to learn alone rather in a group."
"I have a mountain bike but I'm scared to ride it on mountain bike trails."
"I would just like to learn properly."
"I have not mountain biked in a long time and need to brush up on my skills."
"I can ride ok but struggle to get over logs or down hills."
"I would just like to learn how to hop over obstacles properly."
"Can't work out how to take corners faster."
"I already ride well but I'm not really getting better."
"My riding friends are all better than I am."
"I can ride ok but struggle when trails point down over rocks."
If any of these statements sound like your intended recipient of the gift voucher then perhaps this is for them.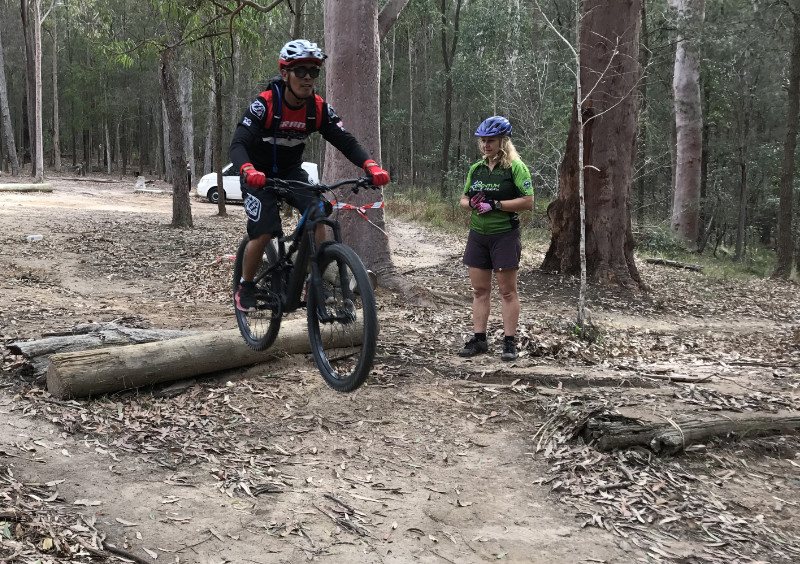 Locations
We have several locations available to us through NSW State Forestry and NSW National Parks for teaching.
Glenrock MTB Park - Cnr Gun Club Rd & Fernleigh Loop, Merewether NSW 2291 - MAP
Awaba MTB Park - 600m up Jenkins Rd (Dirt) at 275 Mount Faulk Rd, Olney NSW - MAP
Ourimbah - 600m up Red Hill Rd (drive on dirt road past the Tree Tops Adventure Park) at 275 Yarramalong Rd, Ourimbah NSW. - MAP
* Locations to be confirmed and will be changed if trail or weather conditions are not favourable on the day.