Women's Only Beginner 3Hr Session Dungog – 8th August
August 8 @ 12:00 pm

-

3:00 pm

$95
OVERVIEW
For ages 13 yrs and above.
Location: Dungog Common, Common Rd, Dungog.
Map: Dungog Map Link Includes meeting point, nearest toilets etc.
Facilities: No water or toilets available at the location.
Riders this suits complete beginners through to near beginner riders who have been riding a little while but have either lost confidence, or never really gained it.
NOTE: Although your mountain bike can be entry-level, it is required that your bike is fitted with mountain bike tyres and not touring/semi-slick tyres. If you are unsure, please ask us.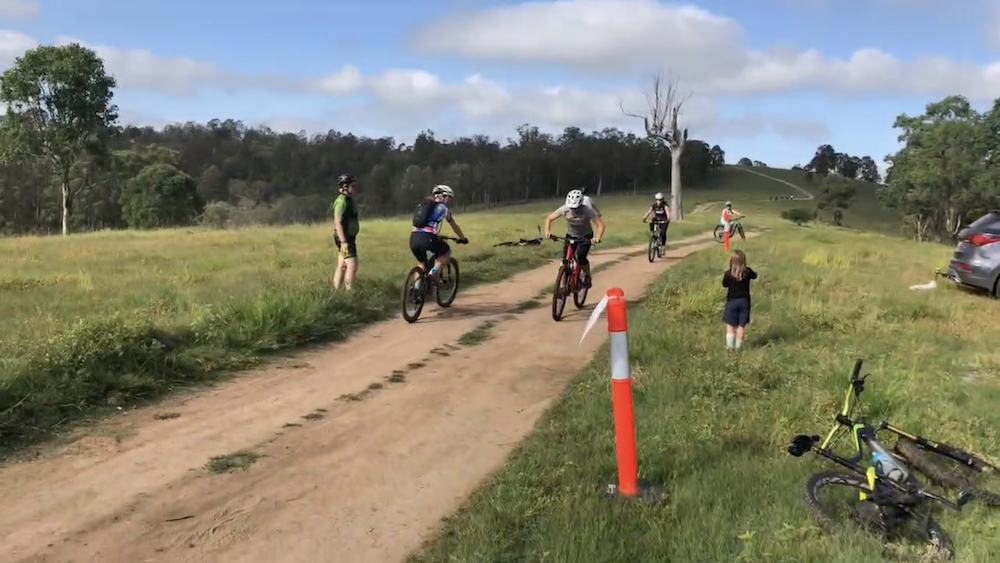 ---
WHAT WILL I LEARN?
Sessions within our beginners will begin with absolute basic skills and progress through towards skills that give the riders better stability and confidence.
Skills learned will include the following and more.
Correct body positions
Braking and Gear selection
Basic Cornering
Balance and control
Handling small obstacles
---
IS THIS FOR ME?
We'd describe a beginner as someone who fits one or more of the following.
New or relatively new to MTB.
Only feels confident or comfortable riding the easier/green trails.
Struggles to get any flow or speed even on easier/green trails.
Has problems with braking and wheels locking up.
Finds themselves in the wrong gear often.
Can't or struggles to get over obstacles such as logs and rocks etc on trails.
Often feels like they are going go over the bars.
Have been riding for some time, or returning to MTB after a long break, but feel like they are still at a novice level of riding.
"I have a mountain bike but I'm scared to ride it on mountain bike trails."
"I would just like to learn properly."
"I have not mountain biked in a long time and need to brush up on my skills."
"I already ride a lot but I'm not really getting better."
"My riding friends are all better than I am."
"I can ride ok but struggle to get over logs or down hills."
If any of these statements sound like you then perhaps this group program is for you.
---
WHAT TO BRING
Bike in good working order (including your usual spares for rides, chain lubed etc)
Helmet (compulsory of course)
Snacks & Water (in hydro pack or bottles etc for breaks)
MTB Gloves (recommended but not compulsory)
Sunscreen & Bug Spray (just in case it's a beautiful day or the bugs hate us)
Change of Clothes (so you don't stink your car out going home)
---

Cancellation Policy
1. You will receive a copy of your coaching fees at time of booking and all fees are subject to full payment before coaching services are rendered.
2. Any additional fees for other Momentum Is Your Friend offerings must be negotiated, in advance of the service and mutually agreed upon between Momentum Is Your Friend and client or clients.
3. Momentum Is Your Friend have the right to cancel courses/training/session at any time when the well being and safety of participants is compromised due to riding conditions being unacceptable or for any other circumstances which are outside the control of Momentum Is Your Friend. An alternative date to complete the training session or program, or credit to an agreed value will be given in all circumstances. A full refund will also be considered under some circumstances under the discretion of Momentum Is Your Friend.
4. No transfers from one course/training/session will be given in the event a client or clients can not attend. If a client or clients can not attend then the conditions of clause 5 below will be employed.
5. A full refund is available for cancellation with more than seven days prior to the course/training/session start date. A cancellation less than seven days to the course/training/session start date will result in Momentum Is Your Friend retaining 100% of the course/training/session fees. Momentum Is Your Friend cannot cater for refund requests arising from injuries, sickness or illness (of any type), change of mind or other reasons a client or clients may have.
5. All prices are quoted in AUD (Australian Dollars).
---
Full Terms and Conditions Available Here
---