Intermediate Rocky Terrain 3Hr Session – Glenrock 27th Feb
February 27 @ 8:00 am

-

11:00 am

$95
Corona-virus (COVID-19)
In accordance with current mandates, some precautions should be considered when attending any activity with other people involved.
Keep space between yourself and others – we instruct our coaches and students at each session to keep the current government and health advised minimum distances from other people at all times,
Don't shake hands or hug anybody,
Avoid touching anything that is not yours including water bottles, bikes, bike gear or bike tools etc,
Cover your nose and mouth when coughing and sneezing with a tissue or a flexed elbow, and avoid touching your eyes, nose, and mouth as much as possible.
If a student/participant shows up with signs of sickness we are required to turn them back home and ask them to call their doctor.
---
OVERVIEW
Our Intermediate Rocky Terrain Session is a 3-hour session of lessons on dark blue intermediate trails with experienced, globally accredited mountain bike instructors. The session has limited places in order to better facilitate participant experience and learning, as well as risk management. The Intermediate Rocky Terrain Session will concentrate on the skills you need to confidently ride cross country rocky technical terrain.
For ages 13 yrs and above.
Location & Map: Glenrock MTB Park (link to directions map)
Facilities: No water or toilets available at location.

WHAT WILL I LEARN?
Our Intermediate Rocky Terrain Session is all about helping you to develop and practice more advanced XC skills so you can confidently ride more technical trails.
Skills learned will include:
Body position
Flowing over rocks and rocky descents
Medium to large XC drops & rollovers
Line choice & trail awareness
Bike handling for more speed
Wheel lifts
Location-specific maneuvres
Note: Session and program content may be altered at the coaches discretion for reasons of safety, weather, to better cater for the riders or other requirements.
---
IS THIS FOR ME?
Our Intermediate Rocky Terrain Session is for:
mid-level and experienced intermediate level XC riders wanting to how to ride more safely and quickly on trails with various rocky features.
mid-level intermediate level XC riders who feel they need to step up their confidence in order to become a more advanced intermediate level cross country rider.
Riders this session suits already ride most obstacles and features on blue cross country trails but find dark blue and black XC trails too much. The session suits riders who aren't confident tackling rocky obstacles at speed or getting the bike over or up rocky obstacles.
I can ride most intermediate trail ok but…
"I need to learn to tackle some more challenging trail features."
"I can't get speed or smoothness over rocks."
"I can't roll over the drops and stuff well."
"I'm slow downhill."
"I often accidentally hit trees, banks, other riders and Ewoks while trying to avoid rocks."
"Even little rocks make me cry"
If any of these statements sound like you then perhaps our Intermediate Rocky Terrain Session is for you.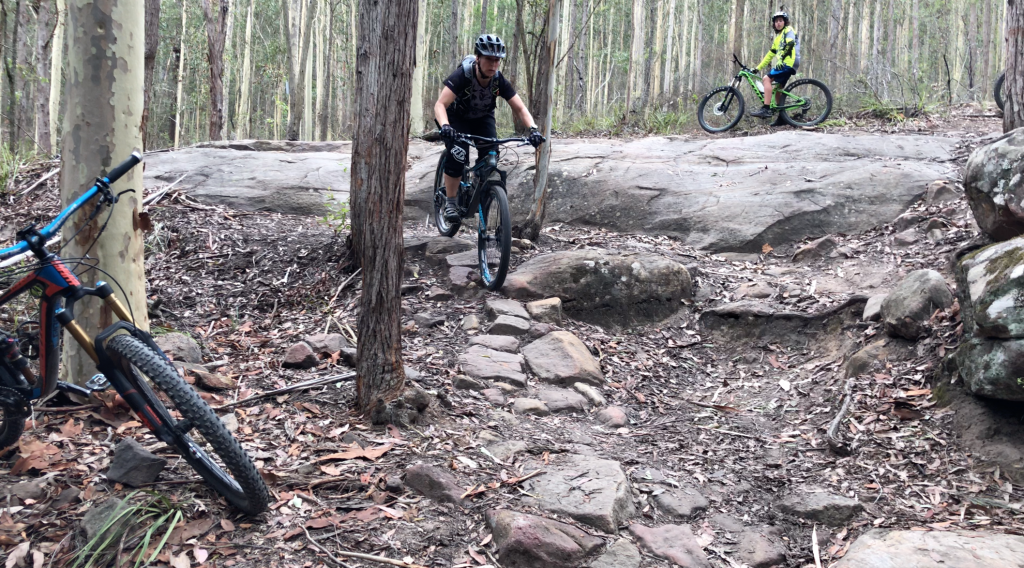 ---
WHAT TO BRING
Bike in good working order (including your usual spares for rides, chain lubed etc)
Helmet (compulsory of course)
Snacks & Water (in hydro pack or bottles etc for morning break)
Elbow & Knee Pads (highly recommended but not compulsory)
MTB Gloves (recommended but not compulsory)
Sunscreen & Bug Spray (just in case it's a beautiful day or the bugs hate us)
Change of Clothes (so you don't stink your car out going home)
---
Refunds/Transfers (from our Terms & Conditions)

3.1. No transfers from one course/training/session will be given in the event a client or clients can not attend. If a client or clients can not attend then the conditions of clause 5 below will be employed.
3.2. A full refund is available for cancellation with more than seven days prior to the course/training/session start date. A cancellation less than seven days to the course/training/session start date will result in Momentum Is Your Friend retaining 100% of the course/training/session fees. Momentum Is Your Friend cannot cater for refund requests arising from injuries, sickness or illness (of any type), change of mind or other reasons a client or clients may have.
3.3. All prices are quoted in AUD (Australian Dollars).
---
Full Terms and Conditions Available Here
---