Intermediate Rocky Terrain Masterclass
June 29 @ 9:00 am

-

12:00 pm

$85
Intermediate 3 Hr Class
For ages 13 yrs and above.
Location: Ourimbah MTB Park (Direction map will be emailed out just before the day of clinic)
Facilities: Nil. No water food or toilets at location. Nearest toilets are approx. 3 km drive at 62 Yarramalong Rd, Mardi NSW 2259.
Check In: 8.45am
Intermediate Rocky Terrain Masterclass
Our intermediate rocky terrain masterclass is aimed at those riders looking for more confidence and flow in rocky terrain. This masterclass will spend a little time on the various skills required to survive and enjoy this type of terrain before heading out and practicing the skills on some of the more significant trail features found on Ourimbah MTB Park's rocky Roller Coaster and Ewok/Boulders trails.

---
What will I learn?
Our intermediate intermediate rocky terrain masterclass focuses on specialised skills helpful in racing and general mountain biking in more rocky terrain.
Skills learned will include the following and more.
Front and rear wheel control
Front & rear wheel lifting
Trail manuals
Rollover/drops
Rocky climbs
Choosing better lines through rocky terrain
---
Is this program for me?
"My wheels just bash into stuff."
"Rolling over rocky drops etc scare the hell out of me."
"I need to learn how to keep momentum in bumpy terrain."
"I can't climb when it's rocky or bumpy."
"I can't find the best lines in rocky terrain."
"I can ride ok but struggle when trails climb over rocks."
If any of these statements sound like you then perhaps this group program is for you.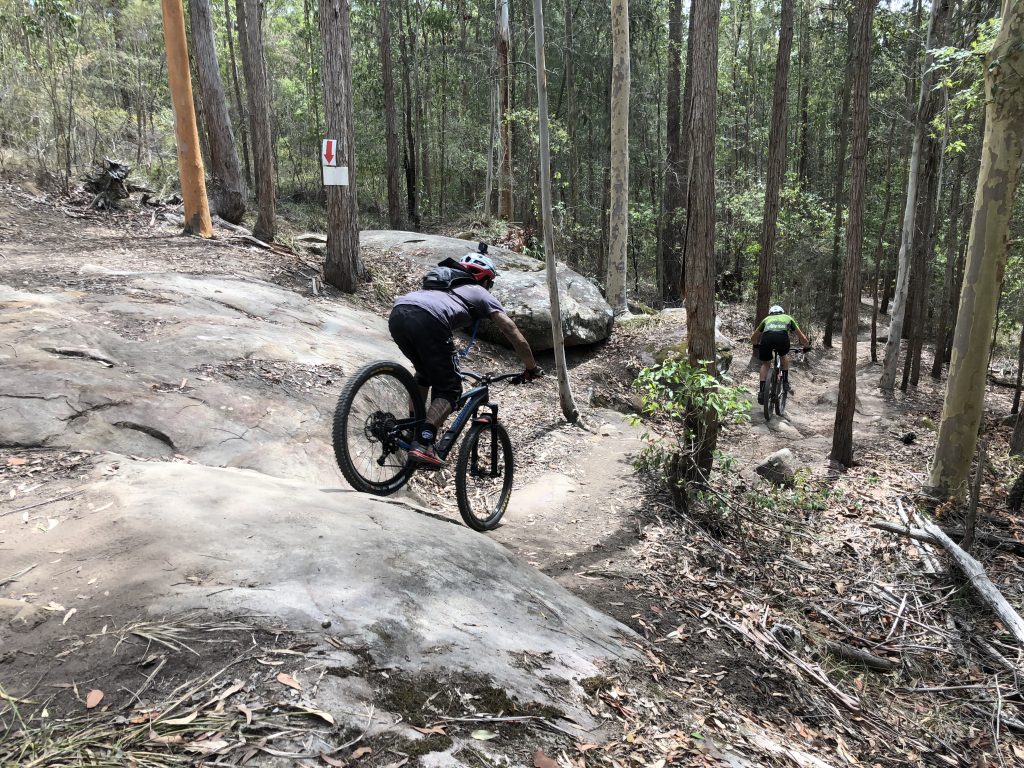 ---
WHAT YOU NEED
Mountain Bike
Although your mountain bike can be entry level, it is required that your bike is fitted with mountain bike tyres and not touring/semi-slick tyres. Preferably tyres with good grip in loose conditions. If you are unsure, please ask us. We do ask that, to the best of your ability, that you try to ensure your bike is in good working order prior to the class.
Helmet
You are required to wear a correctly fitting, Australian approved helmet during all sessions.
Knee and/or Elbow Pads (optional)
Although not compulsory, we do recommend considering extra protection in the form of soft shell pads. You not only gain the protection but also the confidence that comes from knowing you have the protection.
Dropper Post (optional)
The ability to lower your seat post and therefore get lower yourself is an advantage.
Climbing Legs
Although we aren't climbing mountains, there is a few challenging climbs to deal with.
---
---
Tickets are not available as this event has passed.