Intermediate Masterclass Intro to Jumping June 8th
June 8, 2019 @ 10:00 am

-

1:00 pm

$85
Overview
Our intermediate masterclass Intro to Jumping session is aimed at intermediate riders with a reasonable amount of mountain biking experience who want to learn to jump/hop. The aim is to have you confidently jumping off all those rollover/steps downs that you usually have to brake and roll over while watching your riding buddies simply launch over them and disappear on you.
Location Directions & Map
---
What will I learn?
We deliver a progressive session designed for those who have never got their bike off the ground before, or those who have started getting off the ground but are having trouble jumping and landing consistently. You will start by learning techniques you need to jump on flat ground before we ease you into using a very small, purpose built jump. We won't let you progress until we are confident you have the technique sorted and are unlikely to hurt yourself. From there, you progress to another larger jump and then, when and if you are ready, we'll add in other jump related challenges also.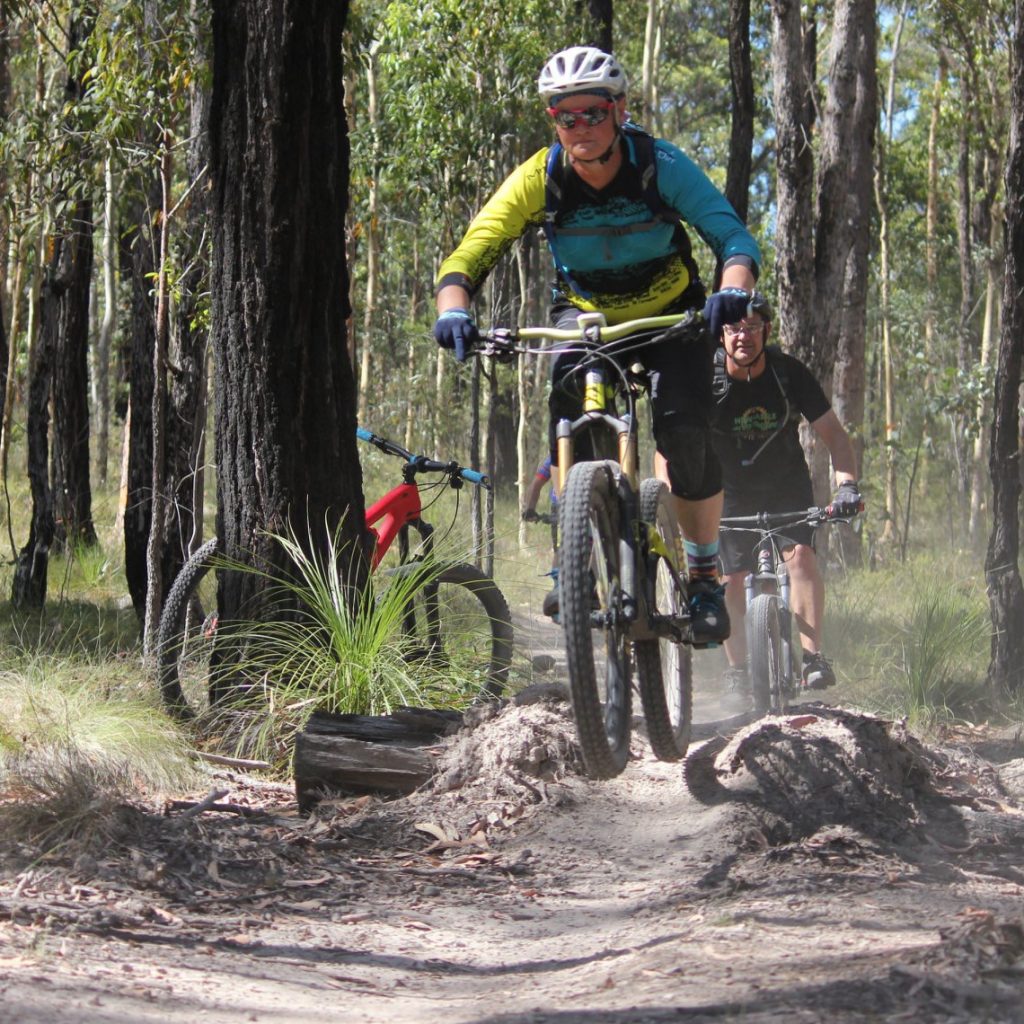 Photo credit: Joe Young
---
Is this program for me?
"I can ride fine but have to brake and rollover the step downs and little jumps on the trail."
"I don't necessarily want to go on to do huge jumps, but I would like to be able leap off anything up to about knee height"
"Not being able to keep up with my riding mates when there's small step downs on the trail frustrates me."
"I can't figure out how to get my bike to jump at all."
"I can jump a little bit, but usually shoot off crooked on take-off."
If any of these statements sound like you, then perhaps this 1 off, 3hr class is for you.
---
WHAT YOU NEED
Mountain Bike
Although your mountain bike can be entry level, it is required that your bike is fitted with mountain bike tyres and not touring/semi-slick tyres. Preferably tyres with good grip in loose conditions. If you are unsure, please ask us. We do ask that, to the best of your ability, that you try to ensure your bike is in good working order prior to the class.
Helmet
You are required to wear a correctly fitting, Australian approved helmet during all sessions.
Dropper Post (recommended but not necessary)
Although not compulsory, having a dropper post on your bike is an advantage for many intermediate and advanced skills. If you don't have a dropper post, you may wish to lower your seat height for some of the lessons.
Knee and/or Elbow Pads (optional)
Although not compulsory, we do recommend considering extra protection in the form of soft shell pads. You not only gain the protection but also the confidence that comes from knowing you have the protection.
---