Intermediate Intro to Gravity – Awaba – 11Dec
December 11 @ 12:30 pm

-

3:30 pm

$100
Corona-virus (COVID-19)
In accordance with current mandates, some precautions should be considered when attending any activity with other people involved.
All students are required to be DOUBLE VACCINATED to meet current NSW Health regulations. You will be required to provide proof on the day. **Failure to do so will result in exclusion from attending this clinic with no refund option.**
Keep space between yourself and others – we instruct our coaches and students at each session to keep the current government and health advised minimum distances from other people at all times,
Don't shake hands or hug anybody,
Avoid touching anything that is not yours including water bottles, bikes, bike gear or bike tools etc,
Cover your nose and mouth when coughing and sneezing with a tissue or a flexed elbow, and avoid touching your eyes, nose, and mouth as much as possible.
If a student/participant shows up with signs of sickness we are required to turn them back home and ask them to call their doctor.
---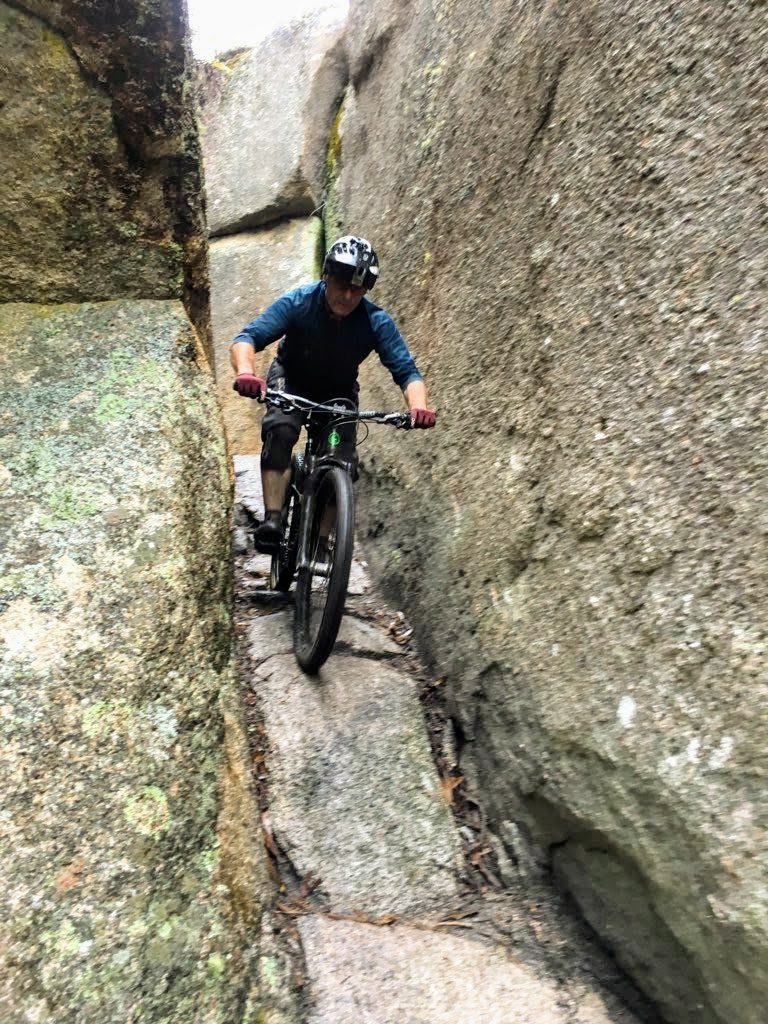 OVERVIEW

For ages 12 yrs and above. (See prerequisites below)
Location & Map: Awaba MTB Park (link to directions map)
Facilities: No water at location. Drop toilets on site.
This clinic will be conducted on the Awaba Downhill Track.
We will all meet up at the main car park before we shuttle everyone up to the half way section to begin our session. We may do a quick Foundations check and bike / safety equipment check before the shuttle to ensure everyone is prepared and aware of their individual requirements.
This will be a physically and mentally challenging clinic that will help push your limits, challenge your skills and hone in techniques required to safely negotiate technical, steep terrain.
More information will be emailed out a day or so before the session.
Tickets limited – available at bottom of page.
Our Intro to Gravity Session is a 3-hour session of lessons on a gravity enduro track with experienced, globally accredited mountain bike instructors who also have many years of experience in downhill racing. The session has very limited places in order to better facilitate participant experience and learning, as well as risk management. The Intro to Gravity session will concentrate on the foundation skills required to safely and efficiently negotiate a gravity enduro / downhill track.

Our Intro to Gravity Session is approx. 3 hours in length give or take.
This is a group session for people from 12 yrs old and up. Each group may contain up to 6 riders maximum. Each session will have 2 coach/instructors.
Prerequisites for doing this class
Must have done our Intro to Flow session AND achieved a satisfactory result according to our coaches or,
Is well known to one of our PMBIA coaches who vouches you qualify or,
Have completed a One on One Private XC/GE session prior to this GE class or,
You're a strong, all-round intermediate/advanced cross country/enduro/downhill rider and will be able to exhibit this on the day as required.
Feel free to shoot us an email or message via Facebook if you have any questions.
---
WHAT WILL I LEARN?
Our Intermediate Gravity Enduro Session is all about helping you to develop and practice more advanced downhill skills so you can not only confidently ride gravity enduro trails but also take your gravity enduro racing more seriously.
Skills learned will include:
Body position
Advanced cornering quickly on flat turns and berms
Pulling over / re-entering on a trail
Flowing over rocks and rocky descents
Drops & rollovers
Line choice & trail awareness
Bike handling for more speed
Small jump/wheel lifts/hopping/tabletops/step-ups
Race skills & tips
Location-specific maneuvers
Note: Session and program content may be altered at the coaches discretion for reasons of safety, weather, to better cater for the riders or other requirements.
---
IS THIS FOR ME?
I've started riding gravity enduro but…
"I need to learn to tackle some more challenging trail features."
"I can't get speed or smoothness over rocks."
"I hesitate too much on descents."
"I can't roll over or even leap off the drops and stuff well."
"I'm slow downhill."
"I lose my front grip when I try to push hard through corners"
"I often accidentally hit trees, banks, other riders and Ewoks."
"Rocks slow me right down"
If any of these statements sound like you then perhaps our Intermediate Gravity Enduro Session is for you.
---
WHAT YOU NEED
Mountain Bike – Your mountain bike will need to be suited to gravity enduro/advanced cross country riding and fitted with mountain bike tyres also suited to rough terrain. We strongly suggest using a tyre with an aggressive tread pattern and a minimum width of 2.3 inches. 2.5-2.8 is more common. Lightweight cross country, touring or semi-slick tyres are not suitable.
Although a hardtail bike can be used, by far the most popular choices for gravity enduro are bikes of between 130 – 170mm full suspension travel and head tube angles between 67-64 degrees. You must also have working brakes, obviously!
If you are unsure about any of this, please ask us.
We do ask that, to the best of your ability, that you try to ensure your bike is in good working and properly set up for your body shape and weight prior to the class. We cannot hold the class up to aid mechanical repairs.
Full Face Helmet (compulsory) – Full face helmets are used for gravity enduro events for good reason. You only have one head and face. You are required to wear a correctly fitting, Australian approved MTB full-face helmet during all sessions.
Dropper Post (optional) – Although not compulsory, having a dropper post on your bike is an advantage for some intermediate and advanced skills. If you don't have a dropper post, we strongly advise setting your seat height to a low height for riding a gravity enduro trail. You can talk to our instructors prior to the class beginning about this if you need.
Elbow & Knee Pads (compulsory) – All students will be required to wear extra protection in the form of hard or soft shell pads on both knees and elbows. You not only gain the protection but also the confidence that comes from knowing you have the protection.
Body Armour (optional) – If you own any sort of body armour then feel free to wear it. Protective gear is useless when you are crashing and it's sitting in a closet at home.
---
Refunds/Transfers (from our Terms & Conditions)

3.1. No transfers from one course/training/session will be given in the event a client or clients can not attend. If a client or clients can not attend then the conditions of clause 5 below will be employed.
3.2. A full refund is available for cancellation with more than seven days prior to the course/training/session start date. A cancellation less than seven days to the course/training/session start date will result in Momentum Is Your Friend retaining 100% of the course/training/session fees. Momentum Is Your Friend cannot cater for refund requests arising from injuries, sickness or illness (of any type), change of mind or other reasons a client or clients may have.
3.3. All prices are quoted in AUD (Australian Dollars).
---
Full Terms and Conditions Available Here
---