Beginners Masterclass
August 26, 2018 @ 9:00 am

-

12:00 pm

$75
For ages 12 yrs and above.
Location: Awaba MTB Park
2 x Coaches, 1 x 4 ratio, max 8 riders (min 5 riders for class to go ahead)
Overview
Our beginners masterclass mtb skills is aimed at those riders who can't get to the weekly sessions of our 5 week programs. This 3 hour session will provide you with some skills to help get you safe out on the trails.
This suits complete beginners through to riders who have been riding a little while but, either lost confidence or never really gained it.
NOTE  Although your mountain bike can be entry level, it is required that your bike is fitted with mountain bike tyres and not touring/semi-slick tyres. If you are unsure, please ask us.
What will I learn?
We not only show you correct body positions for various situations, as well as braking control, we also spend plenty of time on what you do most on an MTB... cornering. We show you what to look for in lines and trail awareness, as well as tips on getting more traction in the turns. Most newer riders are afraid of their front wheel sliding out... we'll help you avoid that and gain confidence in your riding.
Skills learned will include the following and more.
Correct body positions
Braking control
Cornering technique for better traction and control
Line choice
Trail awareness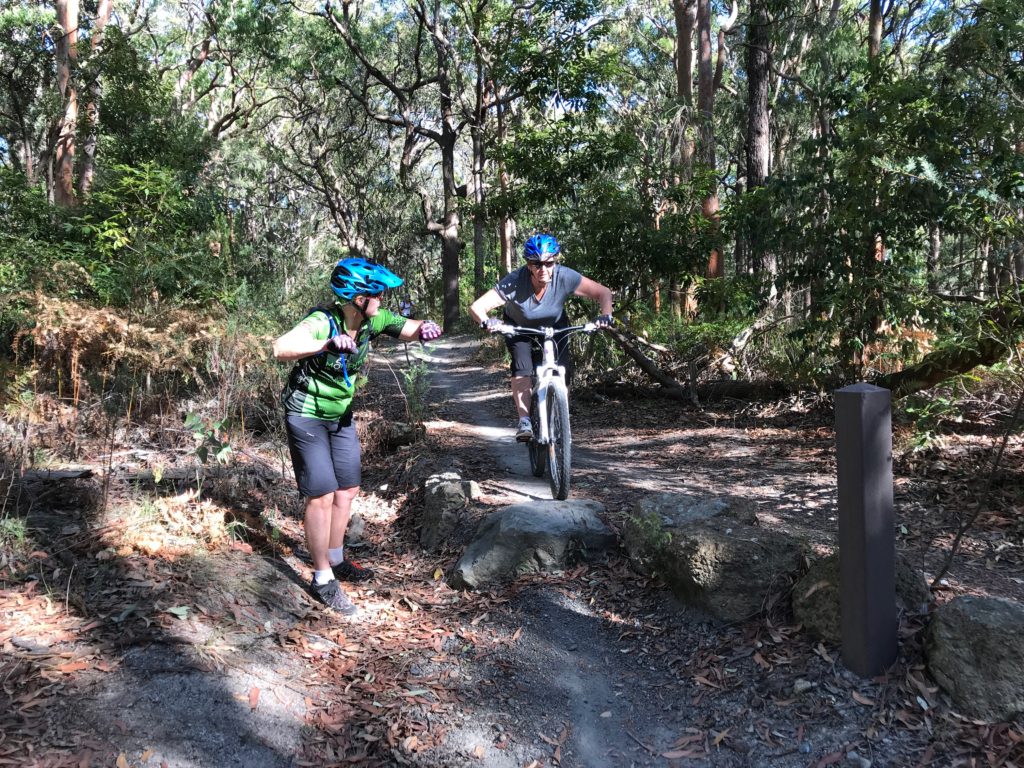 Is this program for me?
We'd describe a beginner as someone who fits one or more of the following.
New or relatively new to MTB.
Only feels confident or comfortable riding the easier/green trails.
Struggles to get any flow or speed even on easier/green trails.
Has problems with braking and wheels locking up.
Finds themselves in the wrong gear often.
Can't or struggles to get over obstacles such as logs and rocks etc on trails.
Often feels like they are going go over the bars.
Have been riding for some time, or returning to MTB after a long break, but feel like they are still at a novice level of riding.
"I have a mountain bike but I'm scared to ride it on mountain bike trails."
"I would just like to learn properly."
"I have not mountain biked in a long time and need to brush up on my skills."
"I already ride a lot but I'm not really getting better."
"My riding friends are all better than I am."
"I can ride ok but struggle to get over logs or down hills."
If any of these statements sound like you then perhaps this group program is for you.

What to bring
Bike in good working order (including your usual spares for rides, chain lubed etc)
Helmet (compulsory of course)
Snacks & Water (in hydro pack or bottles etc for morning break)
MTB Gloves (recommended but not compulsory)
Sunscreen & Bug Spray (just in case it's a beautiful day or the bugs hate us)
Change of Clothes (so you don't stink your car out going home)
Tickets are not available as this event has passed.