Kid's Fast Track Skills Clinic – AWABA – TBA July 22
July 15 @ 8:30 am

-

12:30 pm

$100
Corona-virus (COVID-19)
In accordance with current mandates, some precautions should be considered when attending any activity with other people involved.
Keep space between yourself and others – we instruct our coaches and students at each session to keep the current government and health advised minimum distances from other people at all times,
Don't shake hands or hug anybody,
Avoid touching anything that is not yours including water bottles, bikes, bike gear or bike tools etc,
Cover your nose and mouth when coughing and sneezing with a tissue or a flexed elbow, and avoid touching your eyes, nose, and mouth as much as possible.
If a student/participant shows up with signs of sickness we are required to turn them back home and ask them to call their doctor.
---
OVERVIEW
Our Kid's Fast Track Skills Clinic is an intensive 4 hour session on all the skills required to help you ride safer and with more control. It is aimed at beginner to intermediate level school aged riders with any amount of mountain biking experience.
Create good habits NOW so as you grow bigger and stronger, you'll have the foundations to ride anything, anywhere with confidence and ease. You could be the next World Cup Champion, or discover new trails and adventures around home! Let us help you master your own destiny – on two wheels!
For ages 6 yrs and above.
Location & Map: Awaba MTB Park (link to directions map)
Facilities: No water at location. Drop toilets on site.
More information will be emailed out a day or so before session.
---
WHAT WILL I LEARN?
The 4hr lesson begins with the Foundations of Skills which includes body position, trail awareness, bike balance and controls such as gears, braking and basic cornering to ensure all riders are instinctively handling their bike correctly. The session builds on to learning the various skills required to master maneuvers such as cornering, basic obstacle riding and jumping using techniques you see the world's best riders using. The end result is you will master, or at least leave with the skills to practice to better control your bike and ride with increased confidence!
There is a lot to be learnt in a relatively short period, but we'll monitor the kids, weather conditions and encourage regular breaks. This is designed to be a fun learning experience with friendly, compassionate coaches so the kids can enjoy riding more.
Skills learned will include the following and more.
Correct body positions (riding)
Bike Set Up tips
Trail Awareness
Basic Cornering
Brake and Gear control and use
Reading the terrain better
Choosing better lines through turns or technical sections
---
IS THIS FOR MY CHILD?
"My child struggles to stay balanced and falls over."
"The kids have a mountain bike but are scared to ride it on mountain bike trails."
"I would just like my child to learn properly."
"I already ride a lot and I'm now getting quicker but I'm need better control!"
"My riding friends are all better than I am."
If any of these statements sound like you or your child, then perhaps this group program is for you.
---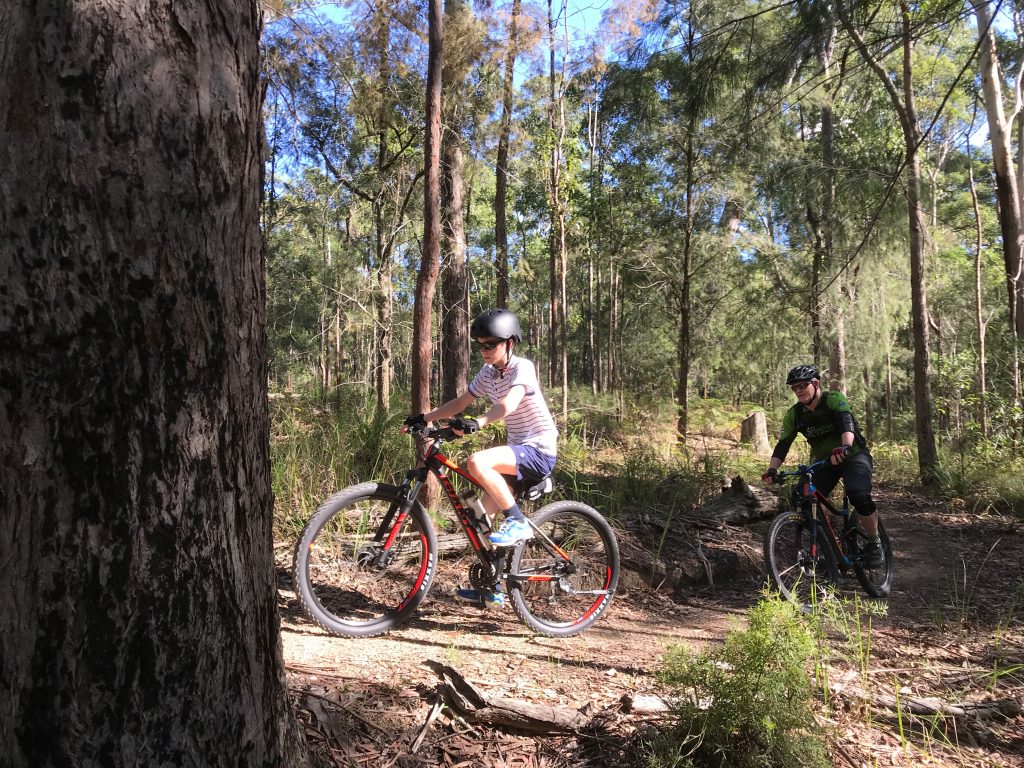 WHAT TO BRING
Mountain Bike –

Although your mountain bike can be entry level, it is required that your bike is fitted with mountain bike tyres and not touring/semi-slick tyres. Preferably tyres with good grip in loose conditions. If you are unsure, please ask us. We do ask that, to the best of your ability, that you try to ensure your bike is in good working order prior to the class.

Helmet – You are required to wear a correctly fitting, Australian approved helmet during all sessions.
Snacks & Water (in hydro packs, backpacks or bottles etc for during breaks)
MTB Gloves (recommended but not compulsory)
Sunscreen & Bug Spray (just in case it's a beautiful day or the bugs hate us)
Change of Clothes (so you don't stink your Mum's car out going home!)
---
Refunds/Transfers (from our Terms & Conditions)

3.1. No transfers from one course/training/session will be given in the event a client or clients can not attend. If a client or clients can not attend then the conditions of clause 5 below will be employed.
3.2. A full refund is available for cancellation with more than seven days prior to the course/training/session start date. A cancellation less than seven days to the course/training/session start date will result in Momentum Is Your Friend retaining 100% of the course/training/session fees. Momentum Is Your Friend cannot cater for refund requests arising from injuries, sickness or illness (of any type), change of mind or other reasons a client or clients may have.
3.3. All prices are quoted in AUD (Australian Dollars).
---
Full Terms and Conditions Available Here
---